Resources for Wood Construction Issues
How often have you visited a job site for a wood structure you have designed, only to find the contractor has used a different fastener than specified?  Or perhaps you noticed a seasoning check on a glulam beam and were unsure whether it could jeopardize the integrity of the beam?  With so much flexibility inherent to wood construction, there tends to be many "field fixes" or unapproved fastener patterns which then lead to questions about whether these fixes are structurally sound.  Having the resources you need when these situations arise can help avoid these issues and may provide additional information to help avoid callbacks in the future.
In the May 2018 SE University session, Robert Kuserk, PE, from APA – The Engineered Wood Association, presented Frame for Success – Best Practices for Wood Buildings.  Robert offered several resources for use when designing a wood framed structure.
Robert reviewed the guidelines regarding seasoning checks in glulam beams and recommended APA's Technical Note – Owner's Guide to Understanding Checks in Glued Laminated Timber (Form F450) as a resource when evaluating seasoning checks in wood beams.  To learn more about when seasoning checks may be of concern, please watch this short video.
Another resource which can be useful when designing wood structures is the International Staple, Nail, and Tool Association ICC-ES Evaluation Report ESR-1539.  This publication has extensive tables and strength values for nails and power driven staples.  Robert also suggested using their website www.isanta.org for additional fastener information.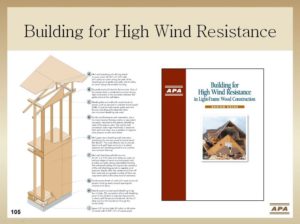 During the session, Robert highlighted important aspects of a wood structure that should be reinforced for high wind events and offered APA's Building for High Wind Resistance in Light Frame Wood Construction (Form M310).  Robert included the following slide which outlines the most critical connections in wood buildings, and further connection details and recommendations are available throughout this publication.  Click on the slide to print your own copy.
Using a variety of resources beyond the scope of the NDS, structural engineers can develop a "Best Practices" approach to wood construction.  When problems arise in the field, being familiar with the resources available from APA and other organizations can help address the issues quickly and efficiently.  Visit www.apawood.org for construction guides, technical details, and much more.