Specifying Steel Fiber Reinforced Concrete
Steel fiber reinforced concrete (SFRC) is gaining in popularity, especially in designs for industrial slabs on grade.  Steel fibers can add strength and increase fatigue resistance, impact resistance, and crack control which make it ideal for large scale slabs where the use of welded wire fabric can be eliminated.  The addition of steel fibers may be an economical option, but if you've never used them, you might wonder what is the best method to properly specify SFRC?
In the February 2020 SE University session, Claire Gandee, from Bekaert, presented Steel Fiber Reinforced Concrete.  Claire reviewed the basics of SFRC and covered the applicable code references for design.  She also covered the design approaches typically used for SFRC and made practical recommendations for specifying and for the placement/finishing of SFRC.  Claire explained the benefits of using SFRC, including possible economic savings.
Claire shared the critical information that should be included when specifying SFRC.  However, it is most important to be sure the contractor and others on the project can readily find the information, and this is best achieved by including it in the specs within the 03 33 00 Cast In Place Reinforcing or alternately within the 03 24 00 Fibrous Reinforcing, including a reference in the 03 33 00 section to be sure it is not missed by the contractor.  ASTM C1116 is a standard specification for Fiber Reinforced Concrete which can be referenced in supplement to performance and material properties of the steel fibers utilized in a project.
Within the specs, the following performance and material requirements should be delineated: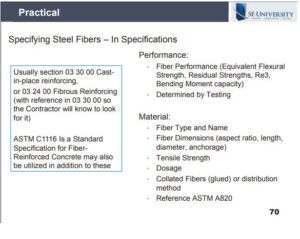 Claire also provided typical drawing notes that give examples of specifying SFRC on construction documents: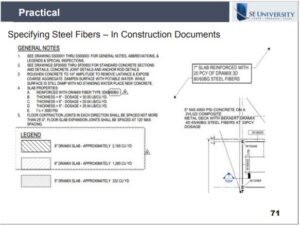 These examples provide a good basis to get started using SFRC on projects where performance improvements help the end-user, and/or when it can save time and money for clients.  While steel fiber reinforcing may be new to some, open communication with the contractor and manufacturer can eliminate any mishaps when using SFRC on your first project.