Resilience in Structural Engineering
Are you aware of how structural engineers can improve on a community's ability to recover from a natural disaster?  Community resilience depends on many influencing factors, and the idea of resilient design is a new topic to most structural engineers.  With more severe natural disasters affecting our communities in ways we haven't envisioned, and climate change shifting the cycle associated climatic events, structural engineers need to identify opportunities to be part of the solution and educate themselves to be effective and active participants in resilience.
In the January 2023 SEU session, Kevin Moore, SE, with Simpson Gumpertz & Heger, presented What a Structural Engineer Should Know about Resilience.  Kevin explained resilience as it relates to structural engineering.  He identified how planners tie resilience to climate change; he defined functional recovery and how it is being considered in standards development.
While sustainability has been the atypical concept for the structural engineering community for quite some time, resilience is a new concept that requires our focus.  These two concepts are notably different and should not be conflated.  Sustainability is focused on an environment that improves human health and well being, economic vitality, and environmental resource abundance.  Resilience, however, is the capacity for a community to overcome unexpected problems, adapt to change, and prepare for and survive catastrophes.  
Community resilience can be described in shorthand as the ability for a community to recover after a catastrophe.  A resilient community is well prepared for and able to absorb, recover from, and successfully manage adverse events.   As structural engineers, we are most capable of sharing insight on performance-based building design, which can prove to be valuable for a community that requires viable space after a catastrophe.  Providing a resilient design specifically considers and intends to minimize damage that may be caused by adverse events.
Kevin specifically how a functional building can contribute to a community's resilience.  After a natural disaster, there are several recovery states possible for a building, as shown on the slide below: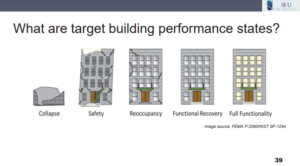 Resilient design applied to an individual building will most often result in a "functional recovery" level performance goal.  Functional recovery is a performance state where a building performs and is maintained, or restored, to safely and adequately support the basic intended functions associated with the pre-disaster use or occupancy.  This performance goal is a step above reoccupancy, which is a performance state in which a building is maintained, or restored, to allow safe re-entry for the purpose of providing shelter or protecting building contents.  A building in the reoccupancy state does not provide the same level of recovery opportunity to the community. A building in the functional recovery state is more useful to a recovering community because economic drivers and shelter are both provided in the same space.
As the design community continues to pursue resilience and resilient design concepts, structural engineers can actively contribute to planning discussions, building performance expectations, and being aware of benefits associated with performance-based design.  Incorporating performance-based designs will become more prevalent as building codes and standards evolve, focused on minimizing the damage associated with adverse events.